Description
Bayrol Chlorilong ULTIMATE 7 (Formerly known as Bayrol VariTab) provides a new dimension in chlorine-based water care. The world's first 2-phase tablet for sand filters disinfects and cleans in several stages. In Phase 1 (blue tablet) there is shock chlorination and the filter is intensively cleaned and disinfected. Phase 2 (white tablet) works for 1-2 weeks giving a thorough disinfection. A flocculating agent is released at the same time and the hardness stabiliser it contains also combats lime precipitation. This especially effective combination of fast and slow dissolving disinfection thus assures double hygiene.
(300g tablets. 4.8kg pack)
Phase 1
The upper blue tablet dissolves quickly and causes shock chlorination. This eliminates existing turbidity and kills existing bacteria. The sand filter system is also cleaned and disinfected.
Phase 2
The lower white tablet dissolves slowly and is effective against bacteria, viruses, and fungi over a long period. At the same time, flocculent is continuously added to eliminate disbursed turbidity. The hardness stabilizer works against calcium precipitation. The particularly effective combination of fast and slow dissolving disinfectant guarantee double hygienic safety and thus ensures extra clean and clear water.
Instructions:
Remove protective foil before using.
Apply only through the skimmer when the pump is running. After dosing continue the pump running for at least 1 hour.
First application: 2 Chlorilong tablets per 25-35 m3.
Subsequent application: 1 Chlorilong tablets per 25m3 25-35 m3 every 10-14 days.
BAYROL's research and development department have come up with a superior chlorine-based pool water treatment concept: Chlorilong ULTIMATE 7.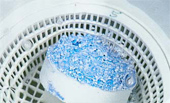 The advantages of the 2-layer tablet
As you know the hygiene of swimming pool water is a very important issue. You want pool water for your family and yourself that is not only superficially clear but hygienically clean? Then VariTab is good news for you. It defines new standards in water quality.
As the name suggests, VariTab is the first tablet with a two-layer, varied dissolving rate, giving several phases simply added to the skimmer and is foreseen for pools with sand filters. Chlorilong tablets are now available in the environmentally friendly 4.8 kg carton.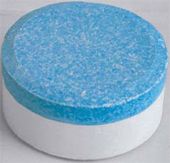 Layer 1
Shock chlorination. The upper, blue tablet dissolves within about 10 minutes. Part of the chlorine contained in the blue tablet is fast dissolving and is immediately transferred into the pool water through the sand filter. This results in shock chlorination: the chlorine value rises noticeably for a short time, thus eliminating turbidity and killing any bacteria present. Even the filter is cleansed and disinfected Chlorilong tablet is intelligent: the other part of the chlorine in the blue tablet is made up of large, slowly dissolving granules. These are deposited on the surface of the filter sand and for between about 30 and 60 minutes they intensively clean and disinfect the filter. This is especially important because the most frequent cause of bad water quality is a contaminated or soiled filter.
Research has shown that virtually half the filters in use are either contaminated or soiled. Chlorilong tablets finally provides the solution to this problem by acting where the dirt and bacteria are.
Layer 2
Long-term disinfection, flocculation and hardness stabilisation. The lower white tablet dissolves slowly and is effective against bacteria, viruses and fungi for 1 to 2 weeks. So, following the shock chlorination, constant and thorough disinfection is guaranteed for the whole of the time it takes to dissolve. At the same time, a flocculant is continuously added to remove even the finest particles that cause turbidity. This makes the water much clearer. The hardness stabiliser which is also included works against calcium precipitations.
Result
The Chlorilong 2-layer tablet is an effective combination of fast and slow dissolving disinfectant and guarantees double hygienic safety. Moreover the sand filter is cleaned and disinfected. Chlorilong tablet doesn't just make the pool water superficially clear; it also makes it hygienically clean. Chlorilong tablets, the new dimension in water quality.
---
For all Bayrol products click here, or if you can't find what you need in our store please give us a call on 01328 838834 or pop us an email at info@wensumpools.co.uk